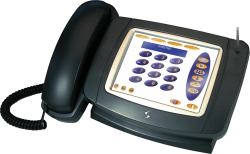 maximising Customer Service
For those seeking the real business benefits that can be gained from the convergence of voice, data, video and web enabled applications, SpliceCom's broad range of Proactive Communication Stations (PCS) delivers the ultimate in service to the desktop. When used in conjunction with the maximiser, PCS allows the relevant information from your core business applications to be "pushed" to the desktops of those who need it in a timely and controlled manner, totally independent of the type of telephone you may wish to deploy
Ease of Use
For voice communications, the PCS 400 provides all the facilities associated with a top of the range digital phone for making and receiving calls. It then extends the control and information associated with these calls through an integrated, full-size VGA (Video Graphics Array), LCD touch screen. Where business phones have traditionally provided context sensitive keys around a small display to aid use, the PCS 400 provides a far larger, context sensitive screen. Graphical icons are used to control telephony functions in the same intuitive manner you associate with mobile phones. A monchrome screen version, the PCS 200, is also available.
Supplied as standard with every maximiser system, the PCS 50 application, delivers ALL of the benefits associated with the PCS 400 and PCS 200 desktop stations to those who wish to use traditional analogue telephones or IP softphones. For analogue telephone users, the PCS 50 application can be run on a desktop or laptop PC. The PC's Ethernet port is then connected either directly, or via the LAN network to a maximiser Call Server module. This allows the PCS 50 application to become a "partner" to an analogue phone connected to a maximiser Phone module. Phone calls can be placed as normal from the telephone keypad, or via the PCS 50 application. Access to Web enabled applications, Intranet based information, video streaming, speed dials/busy lamp field/direct station select, directory access, messaging and call progress are then all provided in exactly the same manner as the PCS 400/200.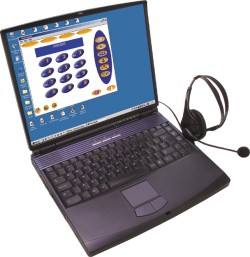 Exactly the same is true for IP softphone users on maximiser. In this case, the PCS 50 application is again run on a multi-media desktop or laptop PC, connected via Ethernet either directly, or indirectly to a Call Server module. Finally, a headset with microphone, or standalone handset, is then attached to the PC via the soundcard, or USB connection, to provide a fully featured IP telephony solution. Ideal for mobile users or those working from home, this again provides ALL of the benefits associated with the top of the range PCS 400.
With the PCS SpliceCom have delivered a consistent, powerful, yet easy-to-use communications interface, independent of the type of phones you may wish to deploy. This in itself is the key to un-locking advanced and powerful business telephone functionality that previously would have been beyond the reach of most employees. The end-result - greater business efficiency.
Improved Customer Service
Keeping your existing customers happy is a critical success factor in these enlightened times, so the provision of outstanding customer service is of extreme importance to every business. Through the combination of maximiser and PCS, SpliceCom allow you to enhance your Customer Service offering in a myriad of ways. Where standard, Caller Display phones are utilised the maximiser system passes through invaluable customer related information - the number of the person calling you, their name and the group or DDI number they've called - before you pick the call up. The same also holds true for the PCS 400, PCS 200 and PCS 50, allowing known customers to be greeted by name, whatever phone you deploy. However, the real power of maximiser is realised when your IT applications are seamlessly converged with your telephone system. Records held on any web enabled or intranet-based application, relating to the calling, or called, customer can easily be pushed on to the screen of the PCS 400, PCS 200 or PCS 50. SpliceCom's PCS uses native HTML to make implementation extremely easy, requiring minimal technical knowledge and little, if any, ongoing support. Alternatively, application integration with the maximiser can also be achieved via XML or Microsoft's Telephony API (TAPI). However, you wish to supplement your current Customer Service offering, the maximiser and PCS gives you maximum choice with maximum flexibility.

Improved Internal Communications
The one sure-fire way to increase the overall efficiency of your company is to maximise the internal transfer of information. To assist you with this maximiser provides you with an integrated contact database. This open standard (LDAP) database is used to store phone numbers and information relating to internal and external contacts and can easily be accessed by anyone using a PCS desk station or application. Speed dialling can be achieved via one of three directory areas held on this database; Contacts, Departments or Users. Alternatively, for frequently dialled numbers you can create your personal Favourites, which function as both Speed Dials/Direct Station Select and Busy Lamp Field icons as well. The Contact entries also have a notes field associated them, these can be viewed and edited using PCS - the PCS 400 & PCS 200 both feature a USB connector for attaching an external keyboard and/or mouse. When you transfer a call internally, the attached notes go with the call - think of it as an integrated, entry-level CRM package.
SpliceCom's maximiser & PCS also allows information from web enabled applications to be "pushed" to those who need it on a regular time of day/day of week basis, or as and when required. For example, a breakdown of the end-of-day sales figures could be sent to the PCS screen or PC of all of the sales staff. As this information is now "pushed" and not "pulled" you no longer have to rely on your staff remembering to access it from their PCs - it is automatically sent to their PCS or PC screen. "Lost time" sending your team to attend company update meetings is also a thing of the past with PCS. Support for multi-media streaming means that your employees can get all the latest company news via video broadcasts without the need to leave their desks. With maximiser & PCS the real time business starts here.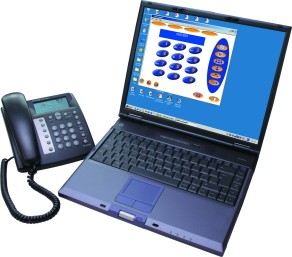 Improved Contactability
With SpliceCom's maximiser & PCS your workforce are recognised and treated for what they are - people with individual and differing needs, not a telephone extension or a place of work. maximiser's unique focus on mobility through geographical independence liberates you from the confines placed upon your workforce by traditional PBXs. They can move between desks, floors within a building or even offices in different locations and their DDI numbers, voicemail and access privileges all move with them. Even when they're out of the office, be it on the road or working from home, they can still handle their calls directly should they choose to. Comprehensive and simple to use forwarding options allow DDI and/or Departmental calls to be forwarded to colleagues, mobiles, home phones or voicemail. And for those employees whose work dictates that they never stay in the same spot for too long, there's even an option to "twin" their desk phone with a (or any alternative phone) so they both ring at the same time. No longer will forwarding be a time consuming chore.
In today's business environment, it's those companies that can be contacted 24 hours a day, 7 days a week that continue to stay ahead of the pack. Because of this SpliceCom provide voicemail, auto attendant and unified messaging as standard on all maximiser systems. The easy to use voicemail system allows for remote retrieval of messages with PIN code security for those out of the office. However, "knowledge" of employee's home and mobile phone numbers allows calls placed from them to be automatically routed directly through to the appropriate mailbox - ideal when collecting calls from a mobile when on the move. The number of outstanding voicemail messages is clearly shown on analogue caller display phones, while the intuitive icon driven display of the PCS is ideal for collecting messages. PCS even allows you to see who's left messages before you listen, and potentially even more importantly who's called and hasn't left a message, allowing a one-touch call-back. Alternatively you could choose to forward your voicemail messages to e-mail, so keeping all your messages in one place.
maximiser Configurations
Each Call Server module handles up to 300 extensions, be they analogue, IP or any mix of the two. If your requirement is for more than 300 extensions simply add more Call Servers - the total current capacity of the maximiser is 5,000 extensions and 100 Call Servers. This approach allows systems to grow in an organic manner without the need to upgrade or replace processors and cabinets as is the case with traditional PBXs. Yet no matter how big or small your system may be it is still appears to your users and is managed as a single entity.
Datasheets:
| | | |
| --- | --- | --- |
| Proactive Communications Station | | (348k) |